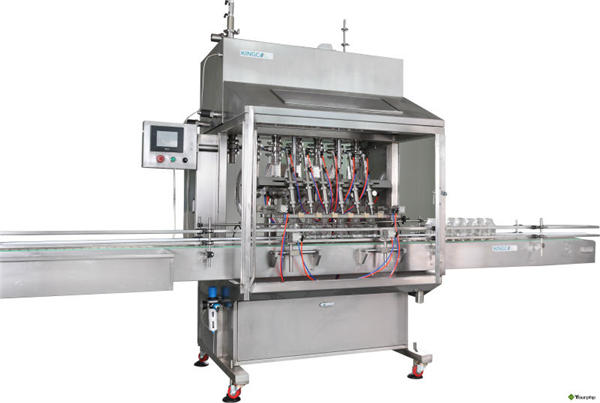 Principales caractéristiques
Cette machine de remplissage par gravité conçue spécialement pour les produits mousseux, tels que: nettoyant pour vitres, savon liquide, etc.
(1) PLC contrôlé, contrôle d'écran tactile amical.
(2) Composants électriques et pneumatiques de marque connue utilisés pour garantir la qualité des machines et leur durée de vie.
(3) la fonction de plongée pour les gouttes peut être spécialement conçue pour les produits mousseux.
(4) Toutes les pièces mouillées sont en SS316.
(5) Non seulement les têtes de remplissage entières peuvent être ajustées, mais chaque tête de remplissage peut être ajustée avec précision, respectivement.
(6) Le comptage d'entrée de bouteille, le remplissage quantitatif, le comptage de sortie de bouteille et les mouvements graves peuvent être effectués automatiquement.
(7) Structure simple, opération facile, fonctionnement à faible bruit et fiable, remplissage précis.
suitable for liquid packing : apple vinegar ,soy sauce ,vinegar ,fish sauce soy sauce and so on ...
pourquoi convenable
---
1 :for different bottle shapes: round ,flat and so on for different kinds shapes of bottles ,they can share on one filling machine ,no need to change spare parts ...
2: no dropping , the filling machine we have the copy right to make sure there is no dropping after filling ( if any dropping ,soy sauce will make the bottles dirty )
3: Anti corrosive ,soy sauce is corrosive ,even stainless steel after long time use will be corrosive ,the material we use ,all the contact part SS 316L ,make sure machines are working good
4: CIP round liquid tank , as for food ,the standard is higher than others ,can not with angle ,and we have the tank is meet the standard requirement of CIP
5: foaming , we have the device which not only diving to avoide the foaming but also have some other special ways to make sure to decrease the foaming.
filling range : 50ml -1000ml        1L -5L      capacity : 100ml 5000BPH       500ml 4000BPH      1000ml 35000BPH
Description du produit
---
is a high-tech filling equipment integrating on the PLC microcomputer programmable control, and photo electricity transduction pneumatic action. The machine is especially suitable for foodstuff. For example: white spirit, soy sauce, vinegar, seasoning, vegetable oil, syrup, mineral water, edible liquid as well as chemical liquid. It has accurate filling measurement; there is not bubble and drop. It suits for the filling of all kinds of bottle (including irregular bottle) ranging from 25 to 1000 ml.
for soy sauce and vinegar such kind of foaming liquid filling ,without dropping ,with accurate filling level
with diving function to decrease foaming during filling
with two kinds of filling speed ,fast filling and slow filling
1,Advanced design
1.1 The machine suits for the filling of different sizes of vessel may change the filling sizes within a few minutes.
1.2 Short filling circle, high production capacity.
1.3 Changing filling circle, high production capacity.
1.4 User may choose the filling volume and decide the filling heads per own production capacity.
1.5 The touching operation color screen, can display the production state, operation procedures and filling ways, tableau objective, operation simple and maintenance convenient.
1.6 Each filling-head is equipped with a bottle-mouth-clamping device, ensuring the injecting material correct aiming at.
2. Unique filling way
2.1 Selecting straight bottle-feeding and bottle-discharging in group, make the filling function extend, the vessels of all kinds of shape are got effective filling.
2.2 Using the world advanced gas filling valve, ensure the filling process non-drop and non-drool.
2.3 Stronger PLC software support, may realize the ideal filling operation.
2.4 Friendly person-machine interface, all operations are completed on the touching color screen.
3. Accurate measurement control
3.1 Using fixed sprue parameter to control the filling time realizing the filling of the different measurements.
3.2 The precision time of the pneumatic valve filling may set to 0.01 second, can make the measurement precision control within ±1%, to decrease unnecessary material loss and enhance the economic efficiency.
3.3 Each filling-head's measurement may be individually adjusted to realize the same filling measurement.
3.4 The machine set such function: having counting program of bottle-feeding, doesn't fill as there is not bottle or the counting doesn't attain a predetermined position, can start filling only when the counter records that the bottle number is same as the setting filling number.
3.5 More or less of the filling volume, may initially adjust to the needed filling volume, then micro adjust, can get the ideal filling measurement precision.
Paramètres technologiques
---
| | | |
| --- | --- | --- |
| 1 | La vitesse | 4500-3000 bottles/h |
| 2 | Gamme de remplissage | 100-1000 ml |
| 3 | Précision de mesure | ± 1% |
| 4 | Puissance de travail | 220VAC |
| 5 | Pression de l'air | 6-7kg/cm² |
| 6 | Consommation d'air | 0.5m³/minute |
| 7 | Taux de puissance | 0,8kw |
| 8 | Puissance d'autres appareils | 5.5kw(aircompressor) |
| 9 | Poids net | 650kg |
| 10 | Taille du compteur | 2200×870×1900mm |
configuration
---
| | | | |
| --- | --- | --- | --- |
| NON. | ITEM | SUPPLIER | Marque |
| 1 | Écran tactile | Taïwan | WEINVEIW |
| 2 | PLC | Japon | Mitsubishi |
| 3 | Photo sensor for bottles | Japon | OPTEX |
| 4 | solenoid valve | Taïwan | SHAKO |
| 5 | Level button | USA | JOHNSON CONTROLS |
| 6 | angle seat Valve | Jointed | BURKERT |
| 7 | Other divices | Taïwan | Airtac |
| 8 | Bouton marche | France | Schneider |
| 9 | Bouton | France | Schneider |
| 10 | Convertisseur de fréquence | France | Schneider |
| 11 | bottle- transport motor | Chine | Huangyan |
| 12 | Réducteur de vitesse | Chine | Jiao xing |
| 13 | Relais | Japon | Omron |
Détails rapides
---
Type: machine de remplissage
Condition: Nouveau
Application: Habillement, boisson, produit chimique, marchandise, nourriture, machinerie et matériel, médical
Type de conditionnement: fûts, bouteilles, canettes
Matériel d'emballage: verre, métal, plastique
Grade automatique: automatique
Type conduit: pneumatique
Tension: 220V 50HZ
Power: 1.8kw
Place of Origin: Shangahi, China (Mainland)
Nom de marque: NPACK
Dimension(L*W*H): 2200*870*2300mm
Poids: 650 kg
Certification: ISO CE CCVO SONCAP
Service après-vente fourni: Ingénieurs disponibles pour entretenir des machines à l'étranger
body material: SS 304
contact part: SS 316
---